Using Campaign Metrics in Parse.ly
Welcome to our guide on Using Campaign Metrics in Parse.ly. This resource is designed to help you effectively navigate and utilize the campaign metrics available in your Parse.ly Dashboard, ensuring you get the most out of your digital marketing campaigns.
Now that you've set up campaign tracking, you can monitor campaign performance. If you're already tracking campaigns via other analytics services, you may not need to perform any additional set up.
Where to monitor campaign performance
Campaigns Tab
The Campaigns tab is your hub of campaign metrics. If you want to explore the performance of your active campaigns, this is the place to do it. You will be able to find the campaigns tab in your Nav bar unless your Admin disabled the feature via Account Preferences.
Beneath the Nav bar, you will find many of the same toggles, features, and filters of the other tabs. Depending on the features included on your contract, this may include a toggle for Posts / Videos and an audience segment filter. Beneath the timeline and filter bar, you will find 6 boxes to choose from. These include 5 campaign parameters and one box containing campaign groups.
Campaign parameters
Parse.ly shows five categories that correspond with UTM parameters: Campaign, Medium, Source, Content, and Term. (Don't use UTM parameters? See other supported parameters.)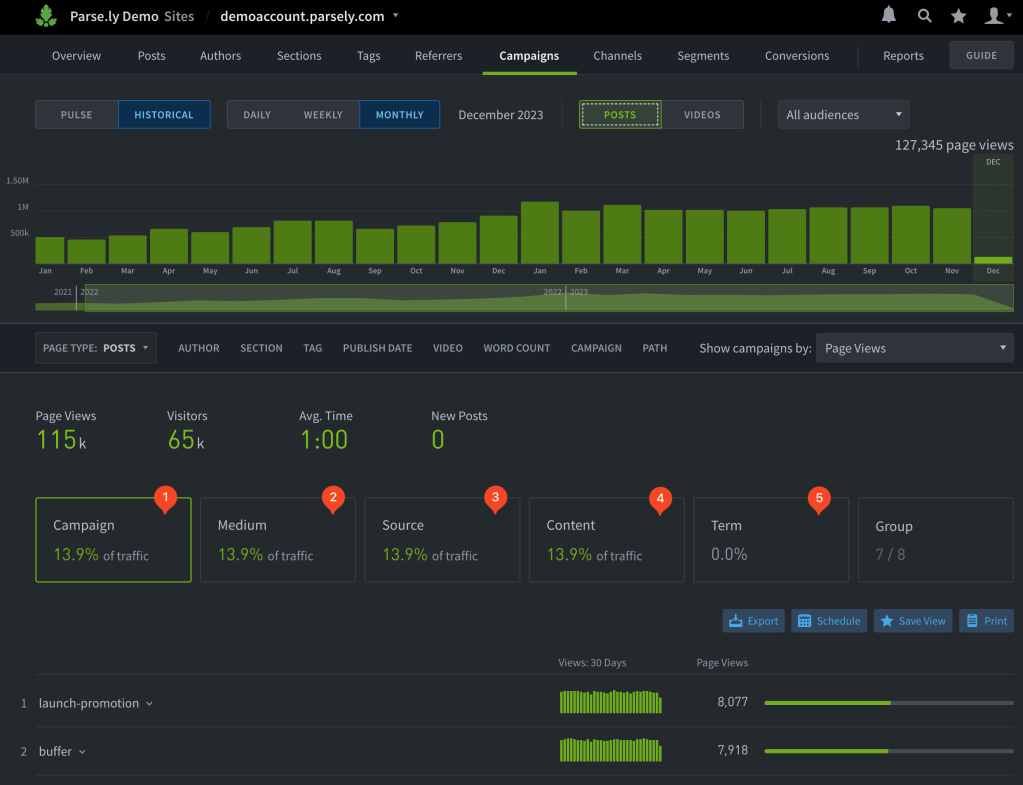 Parameter
Question
Answer (Campaign value)
1. campaign
Why is traffic going here?
fall-promotion, june-product-launch
2. medium
How did traffic get here?
Which marketing channel?
social, email, paid
3. source
Where did traffic come from?
facebook, whatsapp, newsletter
4. content
What did people click on to get here?
banner-ad, link-1, subscription-cta
5. term
What did people search for to get here?
dessert-recipes, running-shoes, data visualization
Note: Metrics for campaigns are the same as the metrics in the rest of the dashboard, with one exception: there's no social interactions data. We disregard parameters and only gather social interactions data based on the unique destination URL.
View detailed campaign data

Click on the name of a campaign (or medium, source, etc). This will open a details preview.
Click the campaign details link to go to a page with information specific to the selected campaign.
Or click on another campaign name to go to its details page.
Campaign details pages allow you to evaluate audience engagement with a single campaign, medium, source, piece of content, or term in conjunction with related posts, videos, referrers, and other campaign aspects.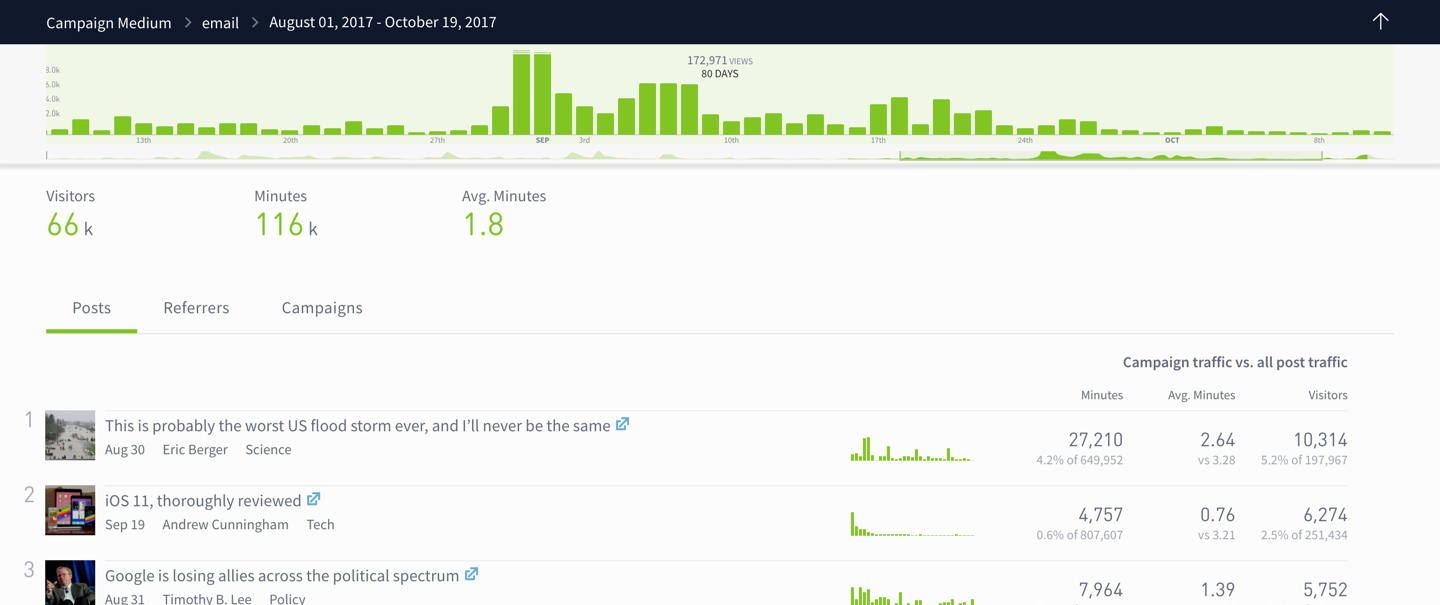 Campaign groups
If you find yourself setting up the same set of filters repeatedly, then you can save time by creating a custom groups of campaigns. Learn more about campaign groups.
Post Details Page
The Campaign tab is a great place for a centralized view of all of your campaigns. But you can also see which campaigns contribute to the success of individual articles. By visiting a post details page, you may scroll down to see campaign data. Try it now by going to one of your posts, using the Open in Parse.ly bookmarklet and finding your campaign information.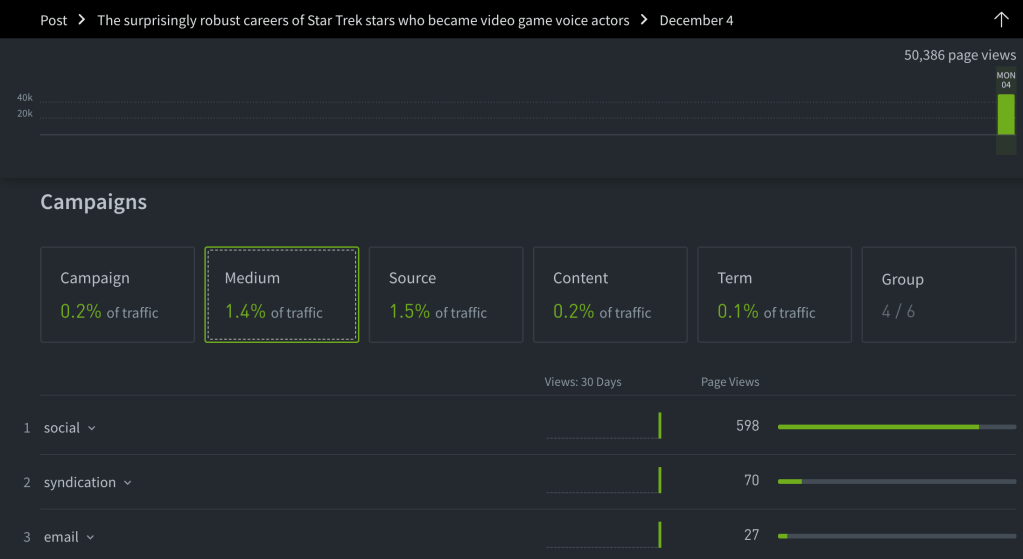 Filters
On every tab of the Parse.ly Dashboard, you can access campaign information via filters. Here is the Campaign filter open on the Referrers tab.

Video Walkthrough
Last updated: December 04, 2023