---
The Top Listings report shows an overview of the most popular videos, posts, authors, tags, sections, or referrers on your site. View a live example. You can also use the Top Listings report to help identify evergreen content and candidates.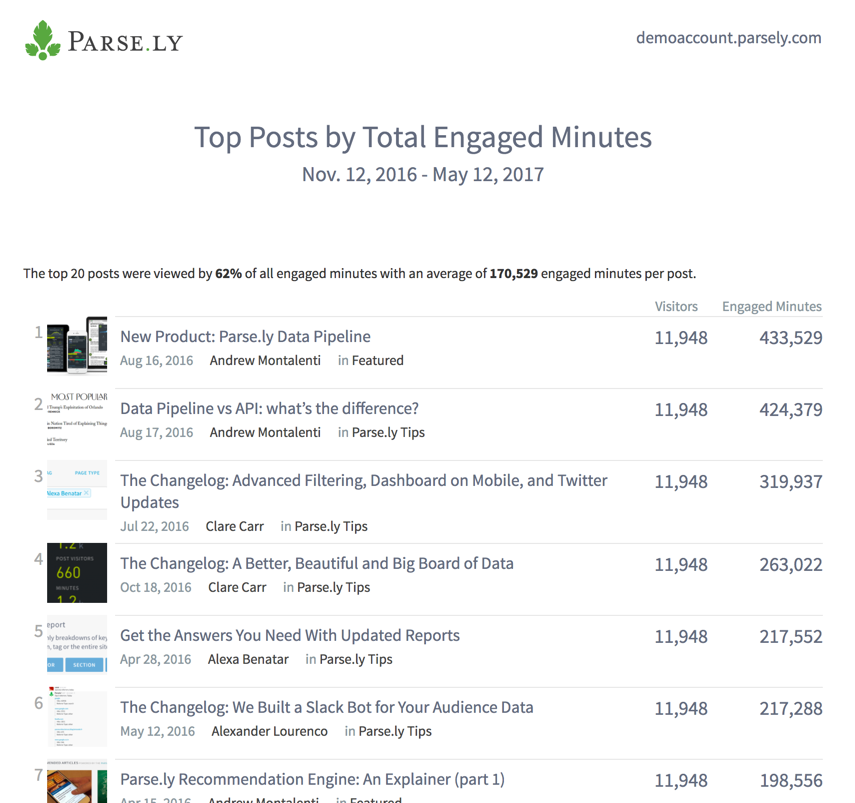 Variables
You can customize a Top Listings report by changing the settings when you create or edit the report.
| | | | |
| --- | --- | --- | --- |
| Aspect | Repeat | Parameters | Filters |
| Videos Posts Authors Sections Tags Referrers Campaigns Channels | Once Daily Weekly Monthly | Time Period Metric Number of listings | Author Published date Lifecycle Campaign Group Page Type Section Tag |
Tips
This report is interactive. Click a particular video, post, author, section, tag, or referrer to see more details in the Parse.ly Dashboard.
If you add two or more filters for the same category (e.g. two Sections), the report will show data that meets any condition. If you add two or more filters for different categories (e.g. a section filter and a tag filter), the report will only show data that meets all conditions.
You can set up recurring a top posts report that looks at the previous day's top posts. Once you identify yesterday's strongest content, you can ask questions like:

Can we re-promote the top content?
Have the top stories all been pushed to all social channels?
Has more information come out on the topic and can we write a follow up story?
Last updated: August 16, 2023