Parse.ly video tracking enables you to pair video information alongside your page view data. Schedule a demo or reach out to your Parse.ly Relationship Manager to see it in action.
What do you get with Parse.ly Video Tracking?
Overview
Within the Overview, you will see a video badge to accompany each of your pages that contains video. The badge displays a percentage of video starts divided by the number of post visitors.

Posts / Pages
Although we normally distinguish between "posts" and "pages", this article will use them interchangeably.
The Posts page contains a view that is similar to the Overview. Let's look at posts that contain video.

By selecting the Videos toggle, you may filter this page to display video metrics in the same way you normally display posts.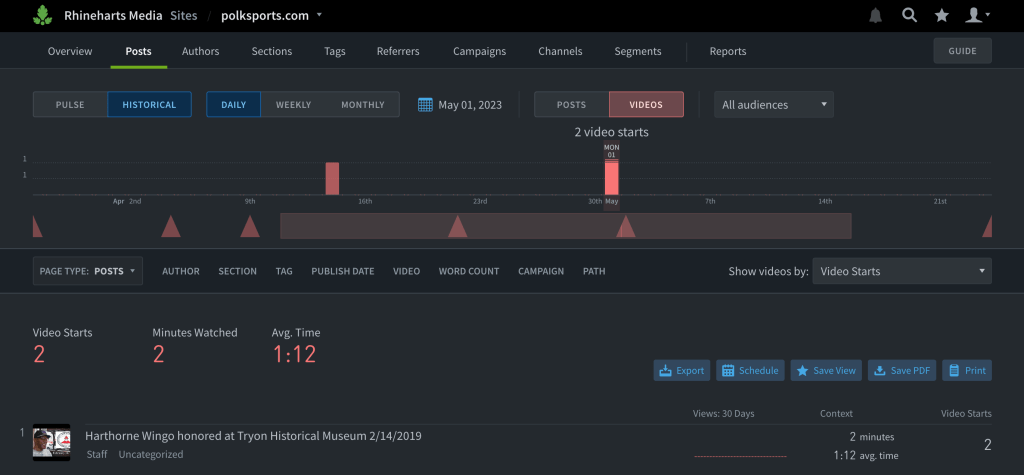 Post Details Page
From the previous page, you may click into a single post and see which videos were played there.

Likewise, you may click on a video and see which pages it was played on.

Reports
You may also generate reports that contain video metrics. You can select the Video aspect in our Top Listings Report and Top Listings Export.
How do you get Parse.ly Video Tracking?
Please review our Video Tracking Integration documentation, schedule a demo, reach out to your Parse.ly Relationship Manager, or contact Parse.ly Support for help!
Related Documentation
Last updated: August 16, 2023