One of the most powerful parts of the Parse.ly platform is the Authors section, enabling a creator to gain valuable insights about content performance. Authors can display data about all creators for a website or show a full screen with data specific to an individual content creator.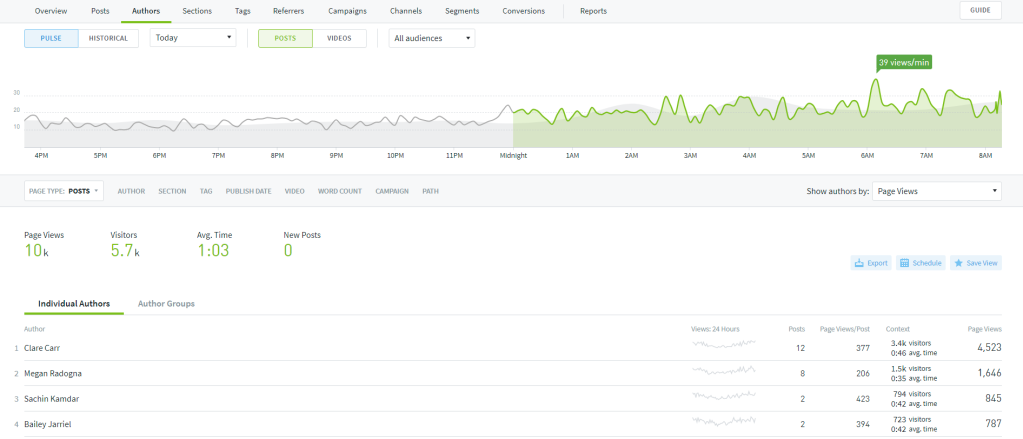 The Authors page will show every author on the publisher's site that has had readers come to their articles for the selected date or date range. Publishers can also opt to create Author Groups, custom groupings of authors that allow a publisher unlimited ways to segment content performance by those groups.
Author names are collected from metadata provided on webpages and are stored exactly as presented on those pages. Values such as "John Doe" and "John B. Doe" will create two separate author entries. If an author name changes – perhaps "Jane Doe" decides to become "Jane Deer Doe" – then Parse.ly's support team can take steps to update all existing pages with the new name. Please contact support@parsely.com for help with author name issues. Author Groups can also be used to address multiple name issues.
Clicking on an author from any screen will take you to the author detail screen. Here you can see historical performance over a specific date range or real-time performance. Here's what you'll find:
Posts published by this author
Sections where this author publishes their content
Tags on content created by this author
Detailed referrer information to find where the author's audience is coming from
Campaigns driving traffic to this author's posts
Social interactions with and referred views to this author's posts

Authors can also further refine results by Section, Tag, and/or Publishing Date.
Also note that you can schedule Author Detail Reports reports to be received via email. The report shows author performance and is intended to help authors understand correlations between the frequency of publishing content and overall readership, while also digging into who their readers are and where they are coming from.
Last updated: August 16, 2023