With Tag Groups, you can create and save collections of tags and view their performance all at once – instead of inspecting each tag individually.
Tag Groups make it easier to organize your tag data the way you want it. You can organize them based on topic, section, or what type of grouping matters most to you.
A common question that our customers will sound something like this: "How are we doing on Social?" or "How is our content on Cryptocurrency working?" or "How is our content getting linked across tech media?"
Now you can create pre-determined groups that have aggregated those sources and topics together already. The tags of Bitcoin, Ethereum, Dogecoin, NFT, (etc) can all be grouped into one tag group of "Crypto Content." We want to help you to quickly get the macro big picture for what's going on with the larger topics or tags you care about.
Tag Groups can be created and seen by all users in your Parse.ly dashboard.
Learn more about Tags and Smart Tags
Create a Tag Group
On the Tags page, click the Tag Groups tab.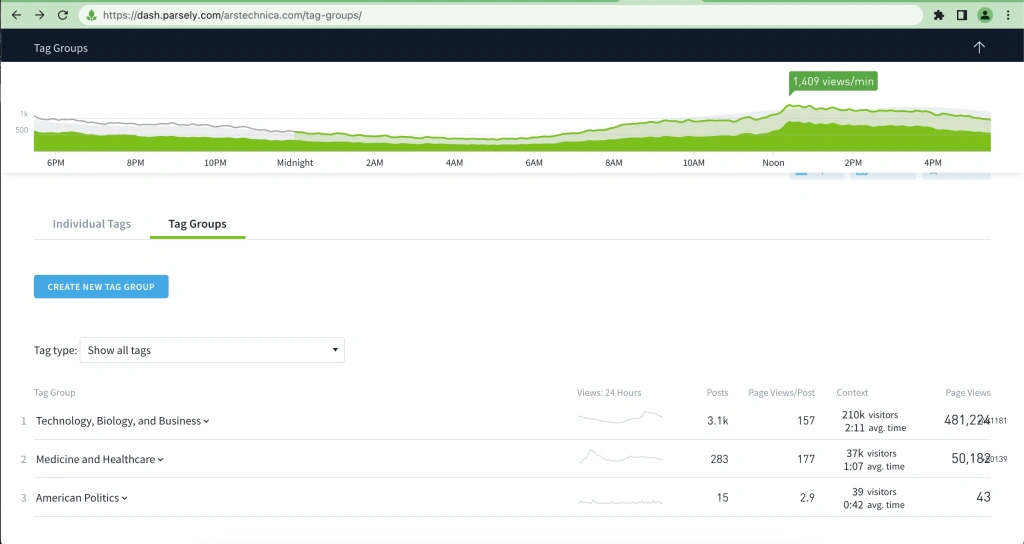 Click Create New Tag Group.
Enter a name for your group.
Select the tags you want to include or exclude in your group.
Click Save. This Tag Group is now visible to all users of your Parse.ly dashboard.
View Tag Group details
From the Tag Groups tab, click on an Tag Group. This will show all the tags with traffic within that group. The default ranking is from most page views to least page views.
To see the posts written with these tags (and other details), click Show Tag Group Details.
Filter with a Tag Group
On a listings or details page, click Tag from the list of filters.
Click the Tag Group dropdown and select a Tag Group.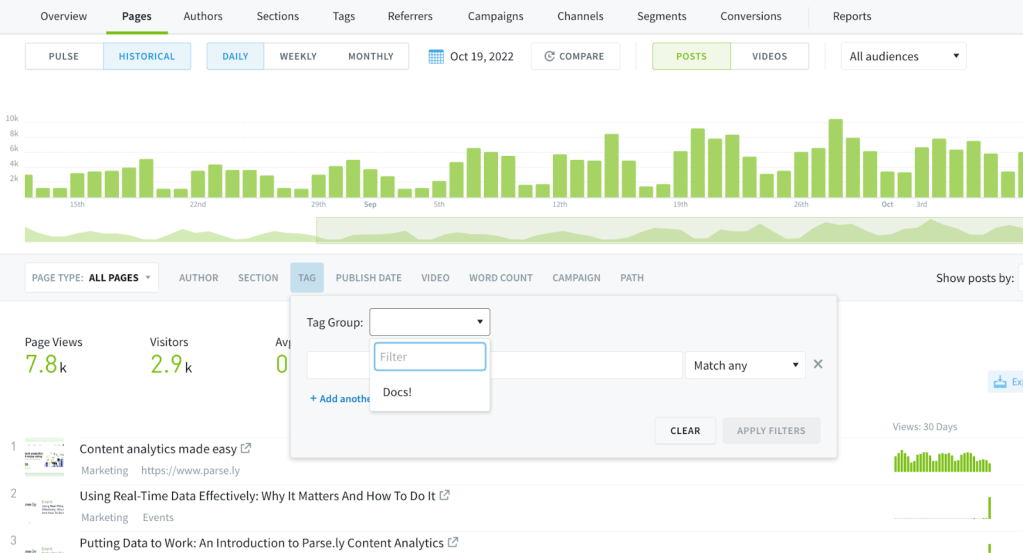 Click Apply Filters.
Edit or delete a Tag Group
From the Tag Groups tab, click on a Tag Group.
Click Edit Group.
Make changes and click Save. Or, to delete a group, click Delete.
Tag Group uses
Group tags relevant to your team
If you're in charge of reporting on the performance of a team, you can add all the tags that matter to your team in one Tag Group.
Sometimes a topic repeats itself with different capitalization or versions that are plural or singular, for example. You can remedy this by creating a Tag Group that contains all versions of that tag.
Goodbye "Tag Analysis"
If you're a Parse.ly superuser, you may be thinking "we already have a Tag Groups tab". We deleted it. Old Tag Groups smartly grouped tags together, giving static snapshots of related tags, limited to the page views metric. According to internal usage data, this feature wasn't hugely popular, and often confused new customers. We took the great idea of grouping tags together and gave you much more control of what exactly those groups consisted of.
Last updated: August 16, 2023