It's important to know how effective your content is at converting visitors. Of course, posts with a high number of page views are likely to get the highest number of conversions. But what about those lower traffic posts which are converting at a higher rate? We have a new beta feature that will help you identify those high-value pages.
What is the Conversion Rate Beta?
This is an experimental new feature, and we have a lot of questions about how our customers will use this. For example: is this a useful way to calculate the conversion rate, or is there a more helpful way to calculate the metric? Is this useful in the dashboard, or only in a report? Should it be available for other attribution methods? We will reach out to you periodically to get feedback on your experience. You can also let us know how it's going by dropping a line here, or by contacting support with the subject line "conversion rate beta".
Want to join the beta? Sign up here. Note: this is per individual login, not for all users.
---
How is the Conversion Rate calculated?
The Conversion Rate is calculated by the number of Conversions divided by the number of Page Views. (Conversions / Page views) * 100 = Conversions Rate %
Where can I access the Conversion Rate?
You can find the Conversion Rate by going to the metric selector, and toggling between "count" and "rate".
Conversion Rate is available on the following aspects: Posts, Authors, Sections, Tags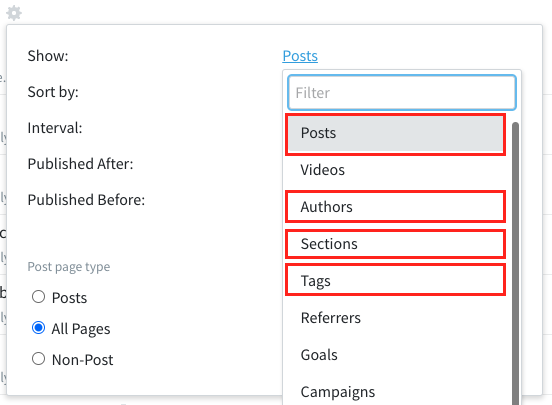 The Conversion Rate will only work for Last Touch and Last Post Touched attribution, and on the following site tabs: Overview, Pages, Authors, Tags.
Conversion rate is not currently available for author or tag groups, or in reports.
Please let us know where else would be useful to see this!
Last updated: April 04, 2023