Automatically update metadata changes with Parse.ly
Alongside the in-app feature that lets you check for metadata updates yourself, Parse.ly now offers a backend system for customers that detects metadata changes automatically on your website, and reflects those changes moving forward in the Parse.ly dashboard.
What does it mean to update metadata changes automatically with Parse.ly?
If you have this feature enabled on your site, we at Parse.ly will check your metadata for changes on your behalf. If we find data that have changed, we will update the metadata on that page to reflect the changes. When this happens, we will update the metadata you see in your Parse.ly dashboard.
You do not have to do anything, we will do all the work for you.
Why should I let Parse.ly automatically update my metadata?
Keeping editorial metadata fresh on your website is key to a successful content strategy. Content creators update their published work often — for search engine optimization (SEO), because new and relevant information is worth adding, because site taxonomies have changed, and so forth. There are many reasons for updating published content. No matter the reason, it helps to see those updates reflected in your analytics toolkit.
With our new backend system, we can detect when a piece of content was updated on your behalf, and reflect those changes in your dashboard for you.
Who can use this feature to auto update metadata changes?
Everyone with access to the Parse.ly dashboard can use this feature. Contact support@parsely.com to request adding this feature to your site today.
Where can I opt-in to have Parse.ly auto detect metadata changes?
Our support team can help you set up this feature. Contact support@parsely.com today and ask them to set up automatic metadata detection for your site.
What should I do with automatic metadata change detection?
If you don't work on or focus on metadata for posts, don't worry about it!
If you make updates to existing posts or keep track of metadata changes as part of your content strategy, set up metadata detection so we can update your dashboard data for you. That way the data you expect to see in the Parse.ly dashboard is in fact the data you see in your dashboard.
What metadata changes will update with this feature?
Checking for metadata updates will scan your site pages to see if the following have changed:
Title of post
Author of post
Tags
Section on site
If we detect a change, we will update it for you.
Will this feature update metadata changes I made in the past on my site?
No. This feature can only detect changes you make after enabling the system on your website. If you made metadata changes to content in the past, please reach out to support for help in updating that data in your Parse.ly dashboard.
What can I not update automatically?
Canonical URLs
With this feature, we cannot update an existing canonical URL on your post.
The canonical URL is the JSON-LD value also known as the "url" property in the JSON-LD tag or the "parsely-link" field in repeated meta tags. This is the Parse.ly source of truth for metadata. When we check the metadata on one of your site pages, we check to see if this canonical "url" already exists in our records. If you change the JSON-LD "url" property or "parsely-link" field in repeated meta tags, our systems will register the page as net new and become a separate data record.
Most content management systems (CMSes) automatically change the canonical url on pages when you change data like slugs or publish date. Unfortunately when this happens, the content splits in two (as you likely already know). This feature cannot fix that problem, because the changes are being made programmatically by your CMS.
Unmonitored metadata
In addition to canonical URLs, this feature does not automatically update:
Publication date
Thumbnail image
How long does it take to update my post metadata?
After the system detects changes, the post will reflect the new metadata from the time of confirmation onwards within three hours.
Wait, what exactly is happening when you check my website for metadata updates?
We scan your site for noticeable changes in metadata. Has the data changed since we last scanned that page? If yes, we will update the data you see in your dashboard to reflect the most recent data on your site. Please note that we cannot detect changes you made to web pages prior to enabling this feature.
What if I want to spot check a post in my dashboard to see if the metadata has been updated?
Can I spot check individual pages to make sure the metadata is up to date?
Yes. To do this, you can use our related feature, check for metadata updates. You can find this feature on every individual post page in your Parse.ly dashboard.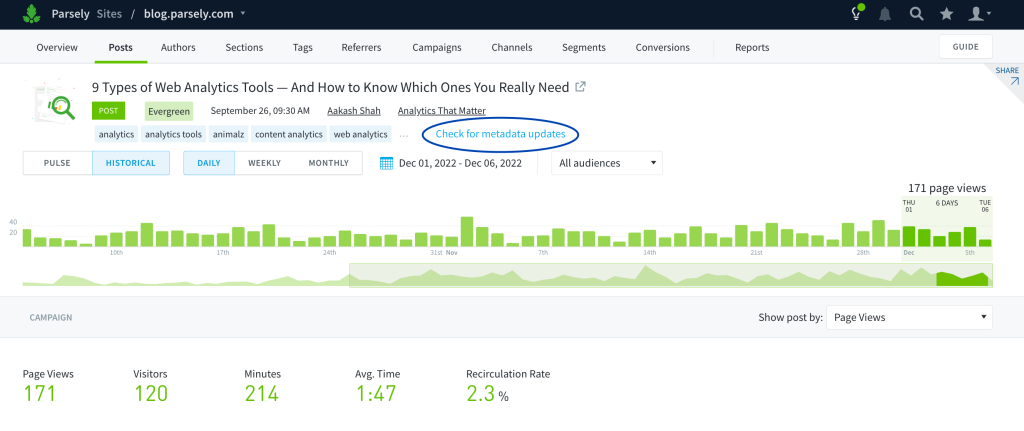 What if I have questions or need help?
If you have feedback on the feature itself, including ideas on how to make it better, contact our product team at research@parsely.com. If you are experiencing technical issues or need help, please contact your relationship manager. As a last resort, you can also email support@parsely.com.
Last updated: August 25, 2023