Understanding Campaigns
Campaigns help you track how your team's distribution efforts—digital advertising, social sharing, and newsletter programs—drive traffic to your site.
To set up campaign tracking, you'll need to add a UTM code or another type of campaign parameter to the end of your URLs. When someone clicks on a URL tagged with campaign parameters, these parameters and their values are sent to Parse.ly, so you can see the effectiveness of each campaign in the dashboard.
Campaign and UTM/ITM integration
Campaign parameters
Parse.ly shows five categories that correspond with UTM parameters: Campaign, Medium, Source, Content, and Term. (Don't use UTM parameters? See other supported parameters.)

1. Campaign
Campaign is used to identify a strategic campaign or a specific promotion, like a product launch, partnership, or a sale.
2. Medium
Medium is used to identify the marketing channel, like social, email, or paid. In other words, how the traffic came to your site.
3. Source
Source identifies what site, application, or publication the traffic came from, like Facebook, Medium, or WhatsApp.
4. Content
Content can be used to describe the content of a display ad or the position of content on a webpage or in an email, like "top-banner," "subscription-cta," or a unique id such as "12948."
5. Term
Term identifies the keyword associated with search engine marketing campaigns, like "running-shoes," "accounting-software," or "data-visualization."
Note: Metrics for campaigns are the same as the metrics in the rest of the dashboard, with one exception: there's no social interactions data. We disregard parameters and only gather social interactions data based on the unique destination URL.
How are Campaigns different from Referrers?
Both Referrers and Campaigns show how visitors found your content through a general channel (like Social) or a specific domain within that channel (like Facebook). In general, Referrers help you understand where earned and organic traffic is coming from. Campaigns allow you to track the origin of owned and paid traffic and identify the impact of deliberate efforts to drive traffic to your site.
View detailed campaign data

Click on the name of a campaign (or medium, source, etc). This will open a details preview.
Click the campaign details link to go to a page with information specific to the selected campaign.
Or click on another campaign name to go to its details page.
Campaign details pages allow you to evaluate audience engagement with a single campaign, medium, source, piece of content, or term in conjunction with related posts, videos, referrers, and other campaign aspects.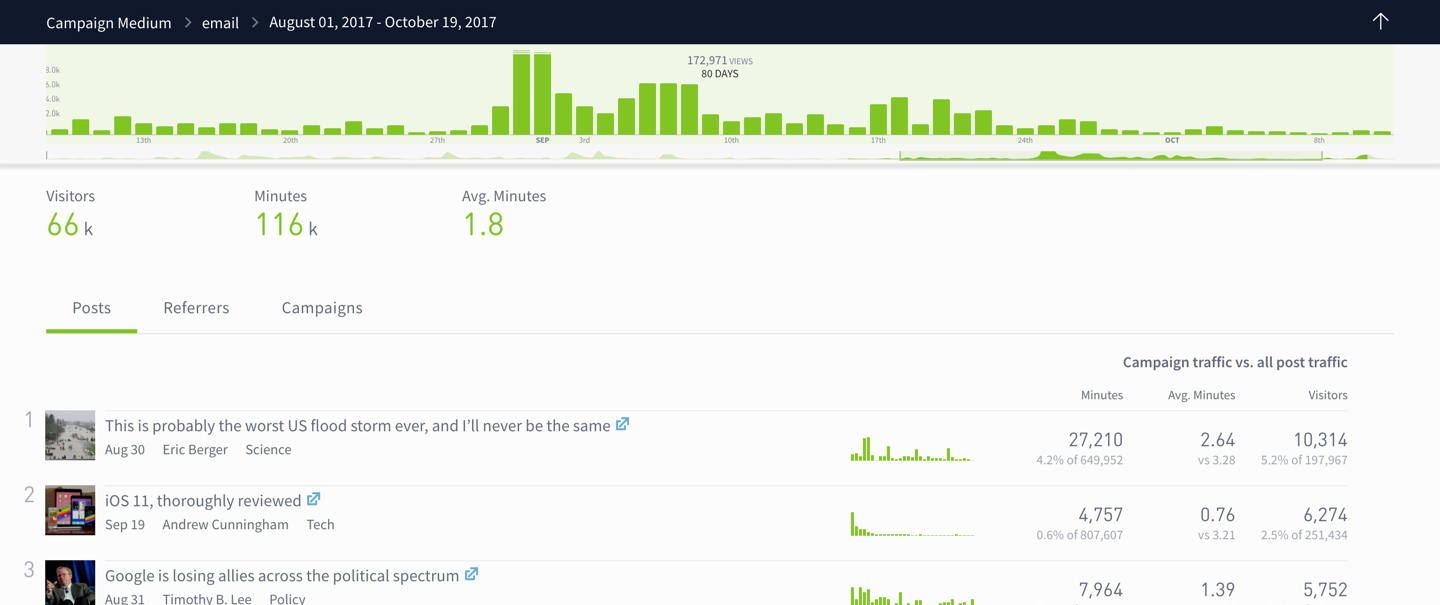 You can also see campaign data on post, video, author, section, tag, or referrer details pages.

Campaign groups
A campaign group filters traffic down to only a certain set of campaign values (or exclude them). For instance, creating a "Non-paid" campaign group that excludes values like "paid" or "cpc" will let you filter out paid traffic. A "Social" campaign group will let you put traffic from Facebook, Twitter, LinkedIn, and other social sites under one umbrella.
Last updated: January 02, 2023