---
The Referrers page shows how people are finding your content. Referrers are broken into five primary channels: Social, Search, Other, Internal, and Direct. Click on a channel to see a list of sites and apps sending traffic your way.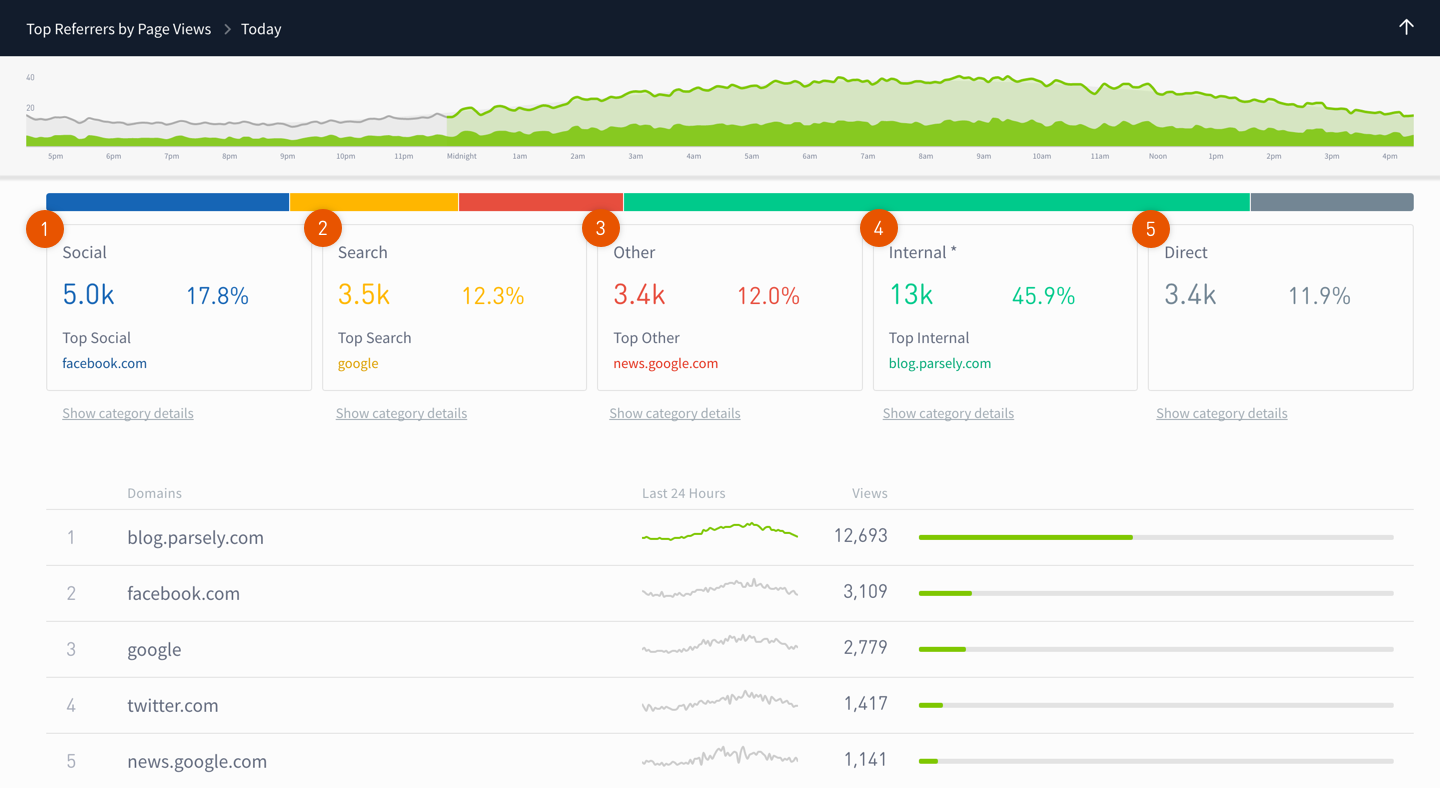 1. Social
Parse.ly tracks a number of referring domains as social networks. That list currently includes:
facebook.com
fantail.social
gigya.com
have2have.it
instagram.com
like2buy.curalate.com
linkedin.com
linkin.bio
linkinprofile.com
linkshop.me
linktr.ee
lnk.bio
meneame.net
pinterest.com
po.st
qq.com
reddit.com
shor.by
stumbleupon.com
t.cn
twitter.com
weibo.cn
weixin110.qq.com
xing.com
Twitter, Pinterest and Reddit will show detailed referral information that can point back to individual tweets and pins, helping you identify influencers that are familiar with your content.
2. Search
Search traffic comes from search engines such as Google, Yahoo!, and Bing.
3. Other
Any additional external referral source will be classified here, such as:
News Aggregators (e.g. Google News, Flipboard, Newsbreak)
RSS feeds
External Sites
Applications
And more!
4. Internal
The Internal category includes any traffic from your site's domain. This can be from the homepage, in-article links, or marketing automation emails (if properly set up with a matching subdomain). Often, large numbers of internal traffic on an article can be driven by photo galleries or paginated content where clicking to see the next image in a slideshow registers another page view, but it can also be a good indication of loyalty throughout a site.
5. Direct
Direct traffic simply has no referrer data. This could be because some typed a URL directly into a browser window. However, direct traffic may also come from "dark" sources, like email, SMS, chat apps, or a social network's mobile app.
You may be able to identify the sources of some direct traffic by adding parameters to your URLs and tracking them on the Campaigns page.
Last updated: December 02, 2022